Wednesday, November 21, 2012
Posted by

SideStreet KED "The Effn GangLeader!!!"
at 11/21/2012 03:39:00 PM
No comments:


Labels: 2 chainz, Atlanta, blog, effn, KED, Kendrick, khalifa, Lamar, Podcast, Radio, rick ross, SideStreet, two, volume, wiz
Some women are like food,
They only satisfy you until the next meal comes along.
Some women are like candy,
Sweet & fun but, bad for you.
Some women are like vegetables,
Good for you but, they lack excitement.
some women are like fruit,
sweet & full of life but,
lacking substance.
However, a wife is like a glass of water.
She's the one you can't live without...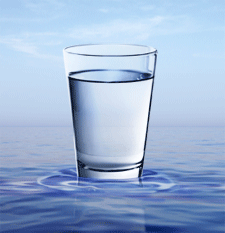 The Effn.
Posted by

SideStreet KED "The Effn GangLeader!!!"
at 11/21/2012 09:04:00 AM
No comments:


Labels: Atlanta, blog, Dungeon, effn, Family, gangleader, girls, glass, KED, poem, poet, poetry, SideStreet, tall, water, wife, women
Tuesday, November 20, 2012

Back in 2008, The music scene in Atlanta was a very different ballgame. Snap rap was on the decline while artists like T.I., Young Jeezy & Gucci Mane was bringing Trap rap back with a fury unlike anything seen in that genre before. Nas was proclaiming Hip Hop to be dead after marrying Kelis & moving to "The A", while a slew of new artists from the south was breathing new life into a seemingly faded industry. 20 inch rims, gaudy overly blingged Jewelry, Gold Teeth, Oversized Jeans & White Tees was the norm & BMF was in full swing.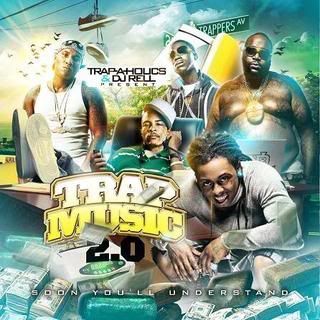 For an artist such as myself, it seemed near impossible to get booked for a show in Atlanta. I'd done numerous showcases, and open mic's at the apache cafe but, rapping to a room full of rappers just waiting to rap just wasn't cutting it for me. I wanted to get in front of a real audience. Real people that wanted to hear good music.
I started by contacting the local promoters, sending them to my myspace page & asking them to give me a slot on an upcoming line-up. They all said the same thing, "Nobody knows you" "you don't have a following" etc... most of the time, I didn't know who the acts were that these promoters had on the line-ups either but, I knew that I had to figure out a way to get on to that stage.
After being denied over & over again, considering that I wasn't from Atlanta, never went to school in Atlanta & didn't come with a pre existing fan base... I felt that performing was my only shot at building a fan base in Atlanta. I had to take it upon myself to produce & promote my own shows.
The 1st thing I needed was a venue. There were a few places in Atlanta that I really wanted to perform in. Star Bar, Masquerade & The Drunken Unicorn were the ones I wanted most so, I started with The Drunken Unicorn and after a few emails back & forth with then Drunken Unicorn Manager, Randy Castello of Tight Bros Network, it was done. I had booked my 1st show... March 28th, 2008 at The Drunken Unicorn.
As a member of The Dungeon Family, I decided to name my showcase in honor of the Legacy. "Thi!nK N3w..." as in, Think New Generation. A continuation of Dungeon Family 1st Generation & 2nd Generation. A place to showcase the newest and brightest. Since then, it has not only grown into that but, it has grown beyond that as well.
At that time, Yelawolf was up & running in the underground circuit of Atlanta backed by his then click & friends, The Dixie Mafia. They were dubbing themselves as the new Dungeon Family. We were all cool at the time so, I called Yelawolf & ran the Thi!nK N3w... Idea by him. I explained that it would be cool for us to partner up on it because the New Atlanta movement that Thi!nK N3w... would be showcasing was about bridging the gap between white & black southern Hip Hip, Shake Dancers & B-Boys, The Trap Rappers & The Hipsters.
The original line-up for the 1st Thi!nK N3w... ended up being: SideStreet KED, Dungeoneze, Hollyweerd, Mach 5, Big Rube, Yelawolf & The Dixie Mafia, w/ DJ WildLife. Hosted By City of Ink with Miya Baily doing live sketches on stage & giving them away for free!
After a few weeks of passing out flyers in the club, on the MARTA Trains & all the major colleges & art schools in the ATL area we ended up w/ a packed house & a drunken carnival... & History was made.
Riding the wave of excitement, I quickly locked in my next date at The Drunken Unicorn & started to plan the next one, Thi!nK N3w... 2.5.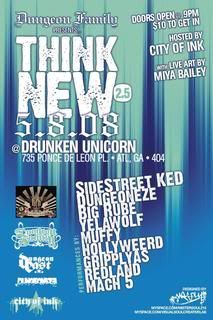 This time I brought back the line-up from the 1st Thi!nK N3w... & added on Muffy, Gripplyaz & The Redland w/ DJ WildLife. This time, we managed to squeeze even more people in & added a semi nude model to the mix & body art by the homie Sentu from City of Ink.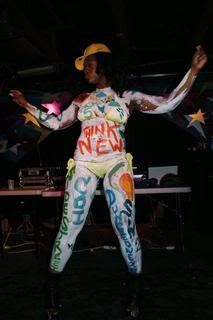 Now, I was starting to see the vision come to life. It was time to start planning the 3rd installment. This time the line-up was even more diverse: SideStreet KED, Dungeoneze, Hollyweerd, Mach 5, Zaq Coldly, Grand Prize Winners From Last Year, Big Rube, Muffy & Vonnegut w/ DJ WildLife.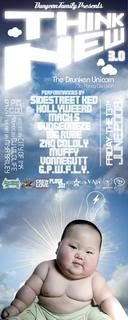 This time around, the audience was littered with a who's who of ATL stars & Socialites like Big Boi of OutKast, Bonecrusher & Bizzare of D12. Once again we crushed! Everyone gave top notch performances.
Always trying to out do myself, at this point I was left wondering... what next? I finally felt like I had my foot in the door. I was being respected not only as an artist & performer but, as a host & promoter but, no story is complete without adversity and this is the moment when mines would come.
I received a call from my brother shortly there after & learned that my Father had passed. I was shattered & my world was turned upside down. I immediately left Atlanta that day and headed home to California. I was devastated & wouldn't recover for months. I didn't return to Atlanta until the following year & things in Atlanta had changed dramatically. The team that I had developed a relationship with at The Drunken Unicorn decided to head for greener pastures and a new crew moved in and took over. That fast... I was back to square one. The new management at The Drunken Unicorn told me they were no longer interested in booking hip hop acts.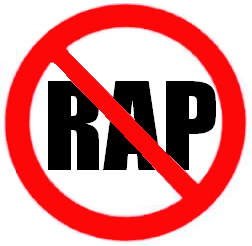 Now, the search was on for a new venue. Lucky for me there was a new place in town providing a stage for underground rap in Atlanta... A graffiti store called The Bench. This would be the location for Thi!nK N3w... 4.1
This time around I went with a refreshed line-up of artists that I'd taken a liking to online from California. Chief Green, Mums FP, Spree Wilson & myself w/ DJ A.D.S. & Hosted by Corey Davis of Greedmont Park/City of Ink.
Although it was a smaller venue, a smaller stage & a smaller crowd than I'd seen at my previous shows... The energy that night was just as electric as the previous versions of the showcase. There was world renown b-boys and beatboxers in attendance & the love of the art form was in the air. I couldn't be mad at that at all.
Although I missed hosting the showcase at The Drunken Unicorn there was something undeniable about the love for hip hop that flowed through The Bench so, I decided to continue to have my showcase there but, that next time I wanted to do something for the people that had been supporting me since day one so I decided to make it a free show.
Once again I packed the Line-up with some of the most creative underground artists that Atlanta had to offer & ended up with: SideStreet KED, Adrift Da Belle, Big Vision, Shred TVT, Amdex, Flux The Wondabat, A.Leon Craft & Corrine Stevie.
The Line-up was great! The problem was that it was a free show & the donated money was stolen by the end of the night. I attempted to recover by throwing another free show called Thi!nK N3w... Free2 but, that one never quite got off the ground & was left defunct.
I couldn't take it any longer... I had to get back in an official venue & back onto a real stage. Unable to get into some of the bigger places like The Earl, Lenny's Bar, Masquerade or 595 North & not confident enough to try packing out a place like vinyl... I decided to try the Apache Cafe but, this time... instead of focusing on hip hop & rock like I had in the past I decided on more of a R&B feel to the line-up & went with myself, Adrift Da Belle, Mykel, Malachi, Spree Wilson, Richelle L. Brown & Crea.
It felt as though Thi!nK N3w...5 proved that the showcase had finally grown up. This time the audience returned. Not quite the volume as some of the 1st shows but, sizable none the less. Still, I wasn't satisfied with The Apache Cafe. It felt a little to constrained for a Thi!nK N3w... I needed the kind of freedom that I had at The Drunken Unicorn so, with my superstitions abound, not wanting to go with a 6th edition of the showcase, I worked my way back into The Drunken Unicorn and skipped to Thi!nK N3w...7.1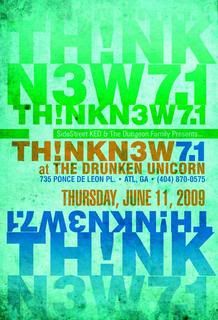 I knew that I had to come with a strong Line-up for this one. I was hell bent on reclaiming the pinnacle of my showcase. I was determined to out do myself... yet again. The flyer for Thi!nK n3w...7.1 read: SideStreet KED, Futureshock, Mums FP, Zaq Coldly, Siya & Mama's Mustache.
Now it was time to include my big brothers Organized Noize & some of my other Dungeon Family Compadres. I just wanted them there to witness the event & with Ceelo showing up & getting on stage, It ended up being the most memorable Thi!nK N3w... to me.
As a favor to an associate, I agreed to have the 8th edition at a new location. That was definitely a mis-step with everything from finding out there was no speakers at the location 30 minutes prior to show time, to finding out that the venue had 2 addresses to 2 different doors & the address I was given to promote was of course the address to the wrong door... went wrong. Still, we managed to pack a larger venue than I had been in before and gave a show that was absolutely bananas.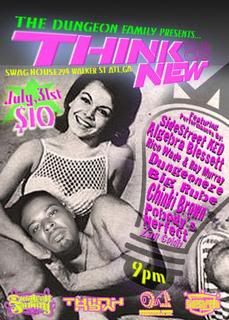 It was wide open. Thi!nK N3w...8 was a hodgepodge of Dungeon Family artist performing on stage with Organized Noize Productions for the 1st time ever. The line-up was too extensive to list all but included: Big Rube, Algebra Blesset, Chinki Brown & Dungeoneze.
Back at The Drunken Unicorn just before Holloween, '09... I put together one of the most powerful line-ups yet. The flyer for Thi!nK N3w...9 read: SideStreet KED, Grand Prize Winners From Last Year, The Doll Daze, Innate Fortè, Lundy, Richelle L. Brown, Rico Wade, Dungeoneze & Pobody's Nerfect.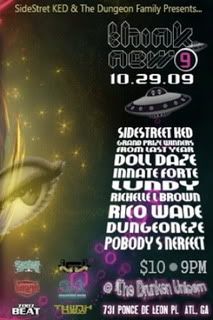 I can't begin to explain the level artistry that graced the stage that night.
After laying low for a few months it was time to start planning for the next showcase and realized that I had reached the 10th installment, Thi!nK N3w...X.
I knew that I would have to give it everything I could at that point. It was a celebration! I couldn't believe that I'd made it this far remembering that in the beginning I almost abandoned the idea after being denied in countless venues due to nobody knowing me in Atlanta & lack of credibility as a promoter.
That night, with the Line-up reading: SideStreet KED, Lee Harvey Oswald, Rico Wade & Ray Murray, Pobody's Nerfect, Methuzula, Al King & Dungeoneze... We went from the Zulu Nation to Magic City! & yes it was magical indeed.
Feeling a mixture of accomplishment and being burnt-out, I decided to take a break from hosting Thi!nK N3w... The break turned into a 2 year hiatus but, refreshed & re-energized We're back with Thi!nK N3w...11 at the historic Star Bar with a brand new bag of tricks!!!
Dedicated to bringing only the Freshest of the Fresh to the stage & vowing to revitalize nite life in Atlanta, Thi!nK N3w...11 Presents: SideStreet KED, Go Dreamer, Spree Wilson & Nutbush.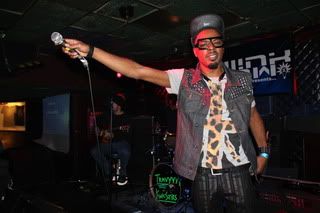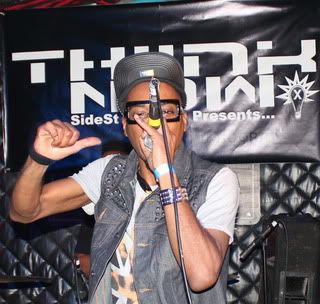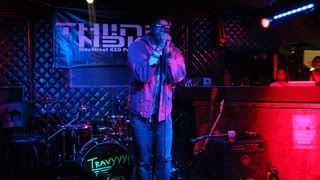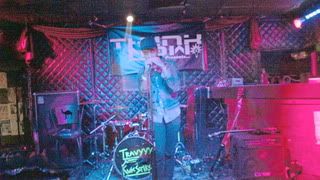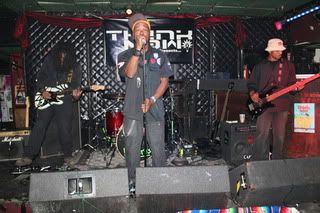 SideStreet KED Performing at Thi!nK N3w...11 @ Star Bar Atlanta, Ga.
So now that you're up to speed... See You All At Thi!nK N3w...12!!!

The Effn.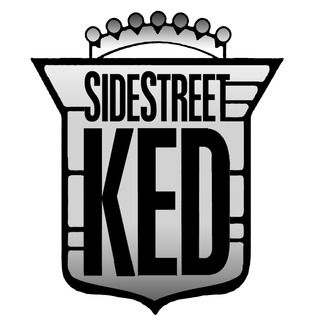 Posted by

SideStreet KED "The Effn GangLeader!!!"
at 11/20/2012 11:11:00 AM
No comments:


Labels: atl, Atlanta, blog, Dungeon, fact, Family, gang, history, KED, leader, live, n3w, new, SideStreet, think, yelawolf